Skip to: Wanted plants // Plant list
I'm currently provisional National Collection holder for tropical Tradescantia cultivars with Plant Heritage. I have an ever-growing collection of Tradescantia and other Commelinaceae cultivars – you can see the full list of plants I currently have. There are also some plants I'm still trying to find – can you help me get them?
As part of my collection, I propagate extra plants and sell them by delivery to the UK. I aim to make my environmental impact as small as possible. So I grow all the plants right here, and never import from wholesalers. I never use peat, use pesticides only when unavoidable, and use all recycled and/or recyclable packaging.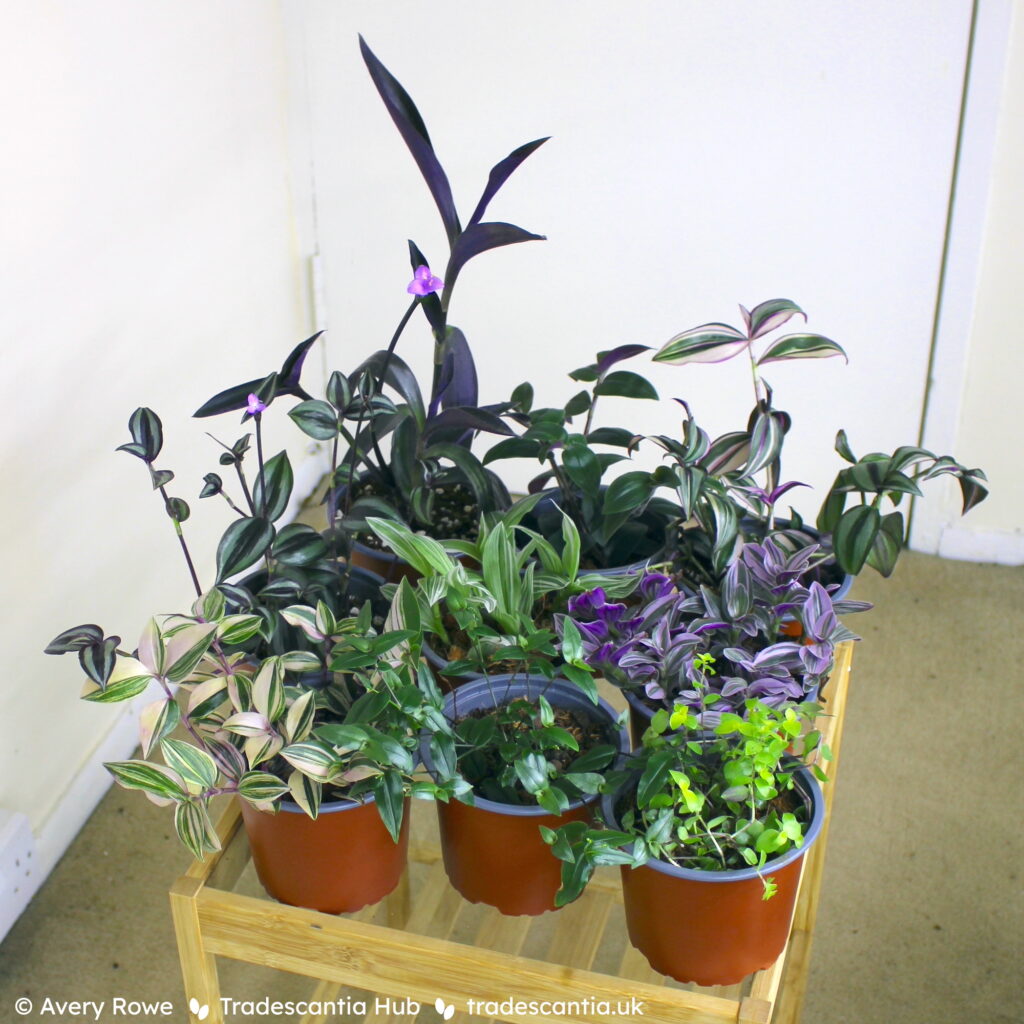 Wanted plants
This is a list of plants I'm on the hunt for to add to the collection. Can you help me get hold of them in the UK? Please get in touch!
T. cerinthoides 'Variegata' (Note this is a different plant from both 'Nanouk'/'Lilac' and 'Pink Furry'!).
T. pallida 'Green Moon'.
Callisia fragrans unnamed variegated cultivar (Not 'Melnikoff' or 'Infinity').
Commelina tuberosa 'Hopleys Variegated'.
Cyanotis 'Tampicana'.
Cyanotis 'Parrot's Beak'.
Murdannia 'Variegated Bright Star'.
Geogenanthus 'Santi'.
Dichorisandra musaica (synonym D. reginae).
Palisota barteri unnamed variegated cultivar.
Aneilema or Rhhopalephora unnamed variegated cultivar.
Plant list
This is a list of all the plants I currently have in my collection. Any of these plants should eventually, occasionally be available to buy in the UK – you can check current stock on Etsy.
Callisia
C. fragrans 'Melnikoff'
C. fragrans 'Infinity'
C. gentlei var. elegans
C. gentlei var. macdougallii
C. repens 'Green Turtle'
C. repens 'Bianca'
C. repens 'Gold'
C. repens 'Gold Variegated'
C. repens 'Kribo'
C. repens 'Rosato'
C. serrulata 'Purple Scimitars'
C. soconuscensis
C. soconuscensis 'Variegata'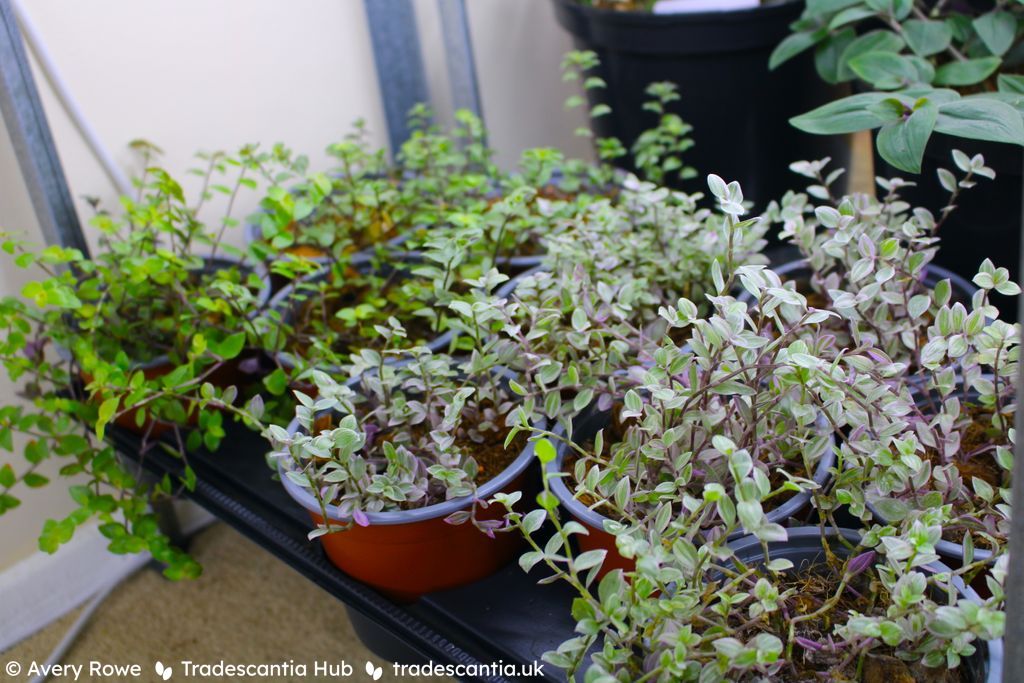 Cyanotis
C. ciliata 'Hijau Baru'
C. villosa
C. ceylanica
C. beddomei 'Teddy Bear Vine'
Gibasis
G. 'Jose Puig'
G. pellucida 'Tahitian Bridal Veil'
G. pellucida 'Tricolour'
Geogenanthus
Murdannia
M. 'Bright Star'
M. acutifolia 'Variegata'
Tinantia
T. pringlei 'Forme Claire'
T. pringlei 'Variegata'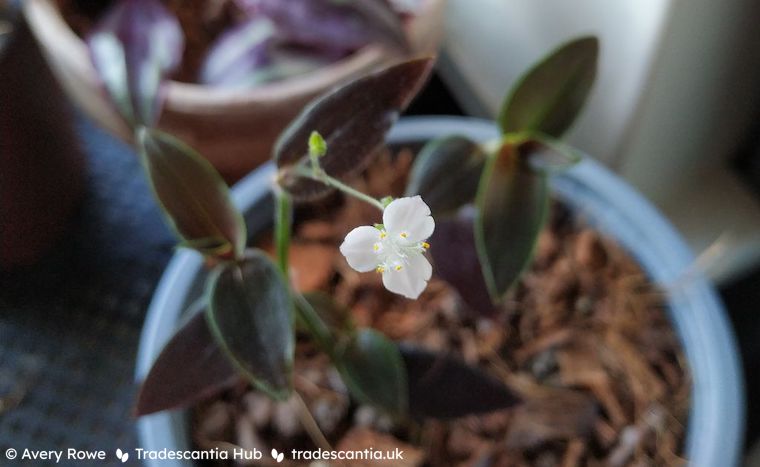 Tradescantia
T. (Continental Group) 'Albovittata'
T. (Continental Group) 'Angel Wings'
T. (Continental Group) 'Ivory Hill'
T. (Continental Group) 'Pink Clone'
T. (Continental Group) 'Pink Dragon' (EU)
T. (Continental Group) 'Pink Dragon' (US)
T. (Continental Group) 'Mini Pink'
T. (Continental Group) 'Pink Lilac'
T. (Continental Group) 'Unicorn'
T. (Continental Group) 'White Giant'
T. (Continental Group) 'White Pink'
T. (Continental Group) Sweetness ('EC-TRADE-2011')
T. (Continental Group) 'Sweet Tabby'
T. (Continental Group) 'Tenderness'
T. (Continental Group) 'Gelfling'
T. 'Pink Hill'
T. 'Pale Puma'
T. Roxxo ('DRATRA01')
T. 'Maiden's Blush'
T. cerinthoides 'Limelight'
T. cerinthoides 'Green Nanouk'
T. cerinthoides 'Nanouk'
T. cerinthoides 'Pink Furry'
T. cerinthoides 'Red Hill'
T. chrysophylla 'Baby Bunny Bellies'
T. chrysophylla variegated
T. fluminensis 'Bicolor'
T. fluminensis 'Viridis'
T. fluminensis 'Aurea'
T. fluminensis 'Lavender'
T. fluminensis 'Variegata'
T. fluminensis 'Yellow Hill'
T. hirta 'Swifttale'
T. mundula 'Green Hill'
T. mundula 'Lisa'
T. mundula 'Fairy Wings'
T. pallida 'Shadow Hill'
T. pallida 'Blue Sue'
T. pallida 'Kartuz Giant'
T. pallida 'Ocampo White'
T. pallida 'Pink Stripe'
T. pallida 'Purple Pixie'
T. pallida 'Purpurea'
T. pallida (unnamed "buckleyi")
T. sillamontana 'Gold Stripes'
T. spathacea 'Dwarf'
T. spathacea Sitara Gold ('HANSOTI02')
T. spathacea 'Sitara'
T. spathacea 'Vittata'
T. spathacea 'Cream'
T. spathacea 'Concolor'
T. zanonia 'Mexican Flag'
T. zebrina 'Burgundy'
T. zebrina 'HappiLee'
T. zebrina 'Deep Purple'
T. zebrina 'Discolor'
T. zebrina 'Discolor Multicolor'
T. zebrina 'Evanesce'
T. zebrina 'Silver Smudge'
T. zebrina 'Flame Dance'
T. zebrina 'Purpusii'
T. zebrina 'Quadricolor'
T. zebrina 'Little Hill'
T. zebrina 'Leprechaun'
T. zebrina 'Minima'
T. zebrina 'Violet Hill'
T. zebrina 'Tikal'
T. zebrina 'Purple Plush'